Cataract Surgery
At Prestera Eye, we utilize the latest technology to perform cataract surgery, ensuring patients receive the highest level of care and experience exceptional results. Our eye doctors, Dr. Tory Prestera and Dr. Kevin Garff, work with each of their patients to develop a customized treatment plan, which includes selecting an intraocular lens (IOL) that can best meet the patient's needs. In your initial consultation, your eye surgeon will discuss the procedure in detail, explain the benefits and drawbacks of each type of IOL, and answer any questions you may have. If cataracts are affecting your vision, please contact us today to learn more about cataract surgery or to schedule an appointment with one of our skilled and experienced ophthalmologists.
Who Is a Candidate for Cataract Surgery?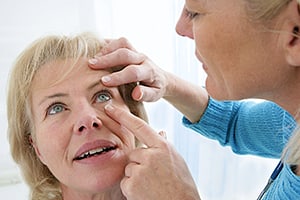 Individuals who are in good overall health and do not suffer from certain serious eye diseases or conditions are typically considered good candidates for cataract surgery. There is no age limit for this procedure, so you cannot be considered "too old" for cataract surgery, as long as you meet the other candidacy requirements. Most cataract surgery patients are over the age of 45, but some younger patients may require cataract removal. In your consultation, Dr. Prestera or Dr. Garff can conduct a thorough examination and determine if you are eligible for this procedure.
How Is Cataract Surgery Performed?
During cataract surgery, your eye will be numbed with a topical anesthetic so our skilled surgeons can carefully remove the clouded lens from the eye through a tiny incision. This is accomplished by using ultrasonic waves to break it up into smaller pieces prior to removal. The eye's natural lens is then replaced with an advanced artificial lens known as an intraocular lens (IOL). At Prestera Eye, we offer a wide variety of premium IOLs, enabling Dr. Prestera and Dr. Garff to customize the procedure to meet the unique needs of each patient. If you are nearsighted, farsighted, or have astigmatism, certain types of IOLs can be used to help reduce or eliminate the effects of these refractive errors. Likewise, a multifocal IOL can be used to address presbyopia, which is an age-related condition that makes it difficult for the eye to focus on up-close activities such as reading and looking at your phone. Prior to your procedure, your surgeon can discuss the different types of IOLs with you and recommend one that can best meet your needs.
Cataract surgery is an outpatient procedure that generally takes 20 minutes or less to perform. However, it is important that you arrive on time for your appointment to complete any necessary pre-op paperwork before your surgery. Additionally, you will need to arrange transportation to and from your procedure.
What Is Cataract Surgery Recovery Like?
Each patient's recovery is a bit different, but your doctor can personalize your aftercare instructions, based on your unique lifestyle and needs. These post-op instructions should be carefully followed to ensure the success of your cataract surgery. Patients can typically resume their daily routine about 24-48 hours after surgery, although some activities may need to be avoided for at least a week, such as bending at the waist and heavy lifting. Vision can be a bit blurry at first, but this should resolve as your eye adjusts to the IOL in a few days. To promote proper healing, we will provide you with prescription eye drops. Dr. Prestera and Dr. Garff also recommend wearing protective eyewear as you recover.
After your surgery, we will schedule several follow-up appointments with you. It is crucial that you attend these post-op appointments so your doctor can monitor your healing and help you avoid potential complications.
Contact Prestera Eye Medical Group
If you are suffering from vision loss due to cataracts and want to speak with one of our experienced ophthalmologists about cataract surgery, please contact us today to schedule an appointment with Dr. Prestera or Dr. Garff.