Dry Eye
If your eyes are frequently red, itchy, and dry, you may be suffering from Dry Eye Syndrome. This condition is relatively common, and can be caused by a variety of factors. At Prestera Eye, our eye doctors, Dr. Tory Prestera and Dr. Kevin Garff, offer simple treatment options designed to alleviate the irritation caused by Dry Eye.
What Are the Symptoms of Dry Eye Syndrome?
Some of the most common signs and symptoms of dry eye include:
An itchy or burning sensation
Redness
Watery eyes
Light sensitivity
Difficulty wearing contact lenses
Blurry vision
Eye fatigue
If you are experiencing some or all of these symptoms on a regular basis, you may be suffering from Dry Eye Syndrome. Please contact us today to schedule an appointment with one of our knowledgeable eye doctors. Following a thorough examination, they can help you find a treatment to help prevent further discomfort.
What Causes Dry Eye Syndrome?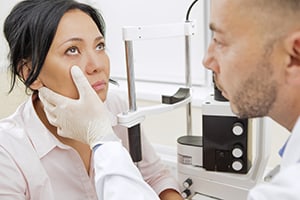 Dry Eye can occur as a result of one's environment, such as dry or dusty locations, but it can also be the result of other concerns:
Aqueous Deficiency – the lacrimal glands in your eyes are responsible for producing tears, which help lubricate the eye. Aqueous deficiency occurs when there is not a sufficient amount of tears being produced, meaning the eyes dry out easily and often.
Meibomian Gland Dysfunction – the meibomian gland adds oils to the tears in your eyes, but if a blockage or other abnormality occurs, it can prevent the oils from being properly produced. This causes the tears to evaporate more quickly than normal, ultimately leading to dryness and discomfort.
Blepharitis – blepharitis is a condition of the eyelid that occurs when the oil glands along the lash line become blocked. While symptoms primarily affect the eyelids and surrounding skin, it can also sometimes cause Dry Eye.
How Is Dry Eye Treated?
As noted above, Dry Eye can be the result of various factors. Depending on your unique case, Dr. Prestera or Dr. Garff can recommend a treatment option that is most effective for addressing your specific underlying cause. Many patients find relief with medicated eye drops or artificial tears, but a punctal plug procedure can also help improve tear production, if necessary.
Contact Prestera Eye Medical Group
To learn more about Dry Eye Syndrome and how it can be treated, or to schedule an appointment with one of our eye care specialists, please contact us today.